I absolutely love this time of year! I love wandering around the stores with the Christmas tunes blasting out and the pretty decorations. I used to love mooching around BHS about fifteen years ago when my son was very young and they used to make an effort. Sadly, BHS is no more but you can still get into the festive spirit and pick up some gorgeous decorations. Here are Five of my favourites:
1. Wilko's
I love Wilko's decorations. They are both stylish and affordable. They have lots of clear baubles with pretty sparkles and decorations inside them. If you love stags, this is the place to go as they have loads. My favourite though is the Glitter Stag, priced at a very reasonable £1.00 each. Find them here.
These stags come in silver and bronze and are part of Wilko's Winter Wonderland Range. I have bought a lot of these myself 🙂
2. Sainsbury's
Sainsbury's Christmas Clear Glass Effect Stag is also delicious. Priced at £2.50 it will make an affordable statement on any tree. Elegant and a stylish, it's an ornament that will bring pleasure for years to come. Buy it here.
3. Next
As you probably know by now, I'm a sucker for anything handmade. These baubles, priced at £14.00 for twelve are gorgeous, and although they're not handmade as such, they are hand-decorated. They would look fabulous on a silver and white themed tree, or you could hang them in a group, like in the photo, from the ceiling. Find them here.
4. Debenhams
Looking for something different? Love Margarita's? Then how about this next pick? Debenhams are selling this fabulous Margarita Glass decoration for a bargain at £6.00.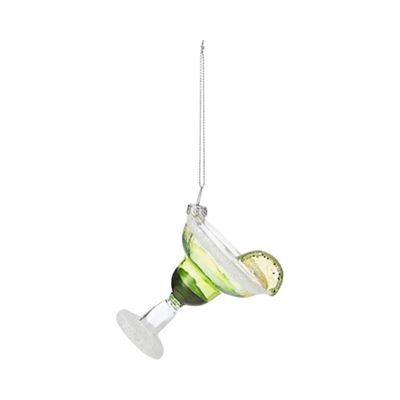 If you love it, as I do, find it here.
5. Marks and Spencer's
I found these light up Alphabet baubles at M & S, priced at £5.00 each. The kids will love to have their initials not only on the tree but up in bright lights as well. Measuring 10cm high by 8cm wide, these baubles come with a battery included. Buy them here.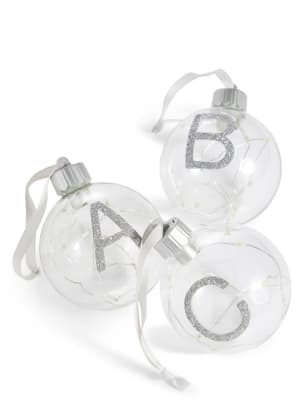 These are just five things I have found on my Christmas travels. Why don't you pop and have a look yourself? And whilst you're there you could treat yourself to a nice festive drink. My particular favourite is the Blackforest Hot Chocolate available at Costa.
All prices are correct at time of writing. All links are correct at time of writing. Please follow the shop's instructions for the decorations. I have not been paid to advertise any of these items.
The featured image is from my store, A Pocketful of Stardust, on Etsy.com